One of my favourite jobs of the year was leading the production of a carefully crafted illustration to reflect the work of the Met Office over the past 12 months. The design was sent out as part of a thank you to our incredible Met Office colleagues who continue to work hard to keep you safe and able to thrive.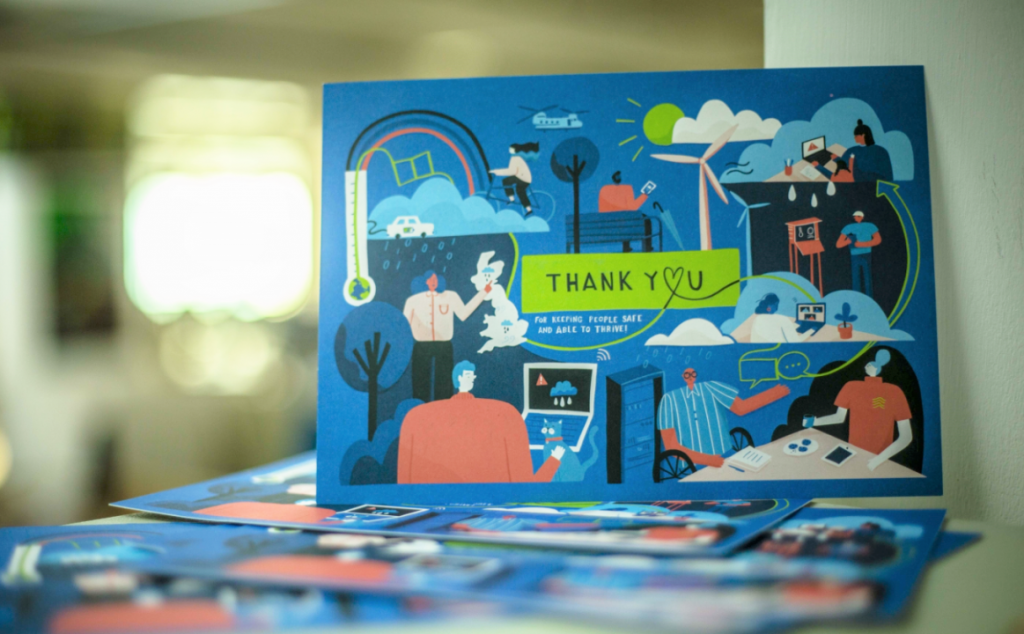 More than simply a beautiful illustration
It's not often that the design 'thinking' gets shared so I thought it'd be refreshing to also see the reasoning behind the design and it's elements.
What we were trying to achieve:
To thank everyone for their efforts
Brighten everyone's home office
A reminder of our good work
Highlight our commitment to our purpose – despite the disruption
Reflect our new values
Illustrate some of our new ways of working
The thinking behind the design itself:
It's hand-drawn to give a feeling of being crafted, loved and is unique and bespoke
'Thank you' as the focus of the design, alongside our purpose wording
It captures our new ways of working – people connected virtually (in the clouds), on team meetings, in person and on site It reflects the impact of our services ad our connected communication – from the warnings on the laptop at the front, through to the connection to the presented forecast, and our warnings appearing on the app of the person on the bench (who has an umbrella as they've come prepared)
It reflects our science and services through the thermometer, turbine, observing, supercomputer. The 1 and 0s falling from the cloud show the impact of our data
It highlights our defence work – it's a big part of what we do and have maintained throughout COVID-19
It nods to our eco-credentials and commitment through the tree, turbine and electric car
It's entwined by our values and everything and everyone is connected to show they are supported
It reflects the diversity of our workforce Our visual brand is echoed through the colours with a nod to the logo on the shirt
'Thank you' wording was also used on the envelope so it's clear it was 'friendly' comms
The delivery
Sent out as a double sided printed A5 postcard, with a message on the back from our Chief Executive – I chose extra thick 350gsm recycled stock to echo it's importance and help make this feel like something you'd want to keep.
Most importantly we used one of the most eco-friendly printing companies in the UK, who have a zero landfill policy, vegetable-based inks, sustainably sourced paper and who support some brilliant environmental charities, helping to reduce their carbon footprint. An important decision as one of our core values is that 'We're a force for good'.
We used it as a way of generating some excitement around our virtual Awards for Excellence, and received some great feedback.
Such a positive people culture here at the Met Office and great to feel so valued